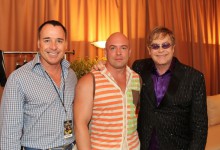 Toronto – June 27, 2014 – Svyatoslav (Slava) Sheremet was the victim of a vicious hate crime after the Ukrainian KyivPride March was cancelled in 2012, which received world-wide media attention and caused Elton John to make an emotional appeal to stop hate crimes against the LGBT community during his performance at the 2012 AIDS benefit concert.
"Recently I read about violence against gay people in Ukraine," said Elton John. "Beating up gay people is wrong. This for me does not symbolize Ukraine," he said. "I plead with you: Stop the violence against gay people."
Slava, together with three Ukrainian activists, Olena Semenova, Maksym Kasianchuk and Taras Karasiichuk, are attending WorldPride 2014 and marching in a special KyivPride entry into the WorldPride Parade.
At a reception on June 26, 2014, Masha Gessen, Russian journalist and writer-in-exile stressed the importance of the current events in Ukraine. "There is a world-wide cultural war going on and the front-line in that war is in Ukraine right now. That's why I came here tonight and that's why it is so important that the activists from Kyiv are at WorldPride. That is the most important thing going on right now. That is the most important battle – the class of civilizations".
She also apologized to the mainly Ukrainian audience, "I want to apologize to you as a Russian citizen. I am very sorry on behalf of my country which is committing a crime against your country".
"Not that long ago, Pride in Toronto looked a lot like the first one in Kyiv," says the Ukrainian visitors sponsor, John Vellinga, President of Multiculture Bevco Inc. and Slava Ultra Premium vodka. "Imagine them seeing it today – and being cheered on by millions on Yonge Street. It will give them hope and inspiration that change can – and will – happen. These are people who rose up, they deserve our support."
Each of the four Ukrainian visitors will be in Canada and available for interviews until Monday afternoon, June 30.
On Sunday, June 29, they are gathering in front of the Consulate General of the Russian Federation at 175 Bloor St East, in Toronto at 2:30 pm and will be marching after 3 pm in the WorldPride parade.
CLICK HERE to view an inspiring backgrounder on four activists and the challenges they have faced with the situation in Ukraine – and how it has affected the LGBT community over the past 2 years.
BACKGROUND INFORMATION
ABOUT THE VISITORS
Mr. Svyatoslav (Slava) Sheremet - one of the founders of Kyiv Pride and a victim of a vicious hate crime after the Pride March was cancelled in 2012 and that received world-wide media attention. He is head of All-Ukrainian Public Organization "Gay Forum of Ukraine". He is a public figure and has also founded the Coalition Against Discrimination in Ukraine which unites more than 50 organizations and is a national public initiative for the development of anti-discrimination legislation and social education about human rights.
http://www.bbc.com/news/magazine-19881905
Mr. Taras Karasiichuk – the current President of the All-Ukrainian Public Organization "Gay-Alliance Ukraine" which has regional representative offices in many regions of Ukraine. He is also current co-chair of organising committee KyivPride2014 and one of founders of the event.
http://www.hrw.org/news/2012/06/26/ukraine-investigate-brutal-attack-gay-activist
Dr. Olena Semenova- a key organizer for the first ever Pride march held in Kyiv just over a year ago. She is also a lynchpin in fighting the "Gay Propaganda" laws – as forced attempted to spread them from Russia to Ukraine. These are the same oppressive laws that were implemented in Russia and drew world wide condemnation.
http://www.kyivpost.com/multimedia/photo/despite-interruptions-lgbt-community-holds-kyivs-first-ever-equality-march-324821.html Dr. Semenova is the co-founder and the Board Member of the Ukrainian LGBT NGO "The New Wave in the Better Future" that works with LGBT families in Ukraine.
Dr. Maksym Kasianchuk- founder and head of the first officially registered LGBT NGO in Donetsk "Donbas-SocProject", co-founder of the Ukrainian Council of LGBT Organizations, as well as a consultant and expert on LGBT issues. He was involved in EuroMaidan in Donetsk, a key flashpoint of the current tension in Ukraine.
http://www.2bmag.com/attacks-and-homophobic-law-plague-ukrainian-lgbts/