Slava Ultra Premium is the official vodka on PROUD 103.9 FM
We sponsored the organizers of Kyiv Pride to come to WorldPride 2014 in Toronto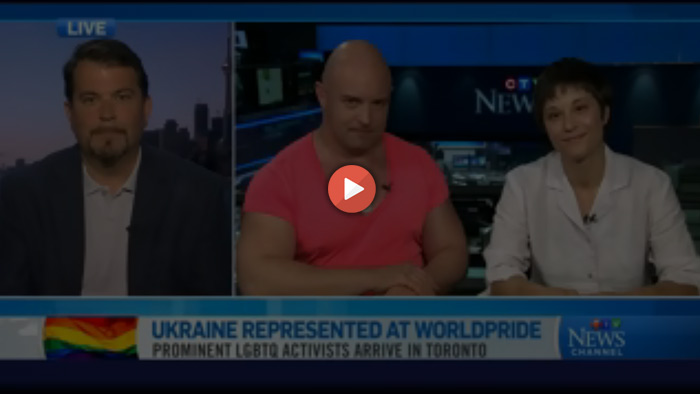 The theme of WorldPride 2014 was "Rise Up". With recent events in Ukraine becoming front page news, these are the people who did rise up and risk their own lives for what is right.
Prominent LGBT activists from Ukraine arrived in Toronto for WorldPride 2014. Olena Semenova, Slava Sheremet and John Vellinga discussed the state in Ukraine and their fight against this oppression.
May 25th marked the first anniversary of Kyiv (Kiev) Pride, when around fifty brave marchers faced life-threatening obstacles in order to make their voices heard. The founding members of Kyiv Pride are the same activists that fought against and prevented the oppressive anti-gay laws that were enacted in Russia from spreading to Ukraine.
The events of the last year from Maidan to Crimea to the recent election have shown that all Ukrainians are fighting for their rights. But Ukraine's LGBT community has even more at stake and face a stark choice: progress toward European style human rights and tolerance, or a slide into oppression.
To help draw attention to their cause, Slava vodka brought them from Ukraine to take part in World Pride in Toronto. This visit allowed them to build a global network of like-minded people and give them hope and inspiration – that change can happen. It also served as a reminder, that while inspiring progress has been made in places like Canada, in parts of the world, people are still fighting for their rights.
This Gay in History: PROUD FM Tribute to the Pioneers
As PROUD FM's official vodka for two years running, to celebrate WOrldPride, Slava has sponsored the feature "This Gay in History" – a look back at the people and events that have defined the LGBT stuggles and achievements.
Click on one of the features to hear a playback
John Vellinga's Interview on Proud FM
Canadian Lesbian & Gay Archive
1971:The Beginning of LGBT Rights
The Kyle Rae Story
The Kyiv Pride Story
The Boyd Kodak Story
Brunswick Four Story
Rev. Brent Hawkes' Story
The Trans March Story
---
Who are these four brave people?

Mr. Svyatoslav Sheremet-Sheremetyev – one of the founders of Kyiv Pride and a victim of a vicious hate crime after the Pride March was cancelled in 2012 that received world-wide media attention. He is Secretary of the All-Ukrainian Union, a national coalition of 27 Ukrainian LGBT NGOs He is a public figure and has also founded the Coalition Against Discrimination in Ukraine which unites more than 50 organizations and is a national public initiative for the development of anti-discrimination, legislation and social education about human rights.
---


Dr. Olena Semenova – Dr. Olena is a Medical Doctor and a key organizer for the first ever Pride march held in Kyiv in 2013. She is also a lynchpin in fighting the oppressive "Gay Propaganda" laws from spreading from Russia to Ukraine. These are the same oppressive laws that were implemented in Russia and drew world wide condemnation and boycotts.
---


Mr. Taras Karasiichuk – the current President of the All-Ukrainian Public Organization "Gay-Alliance Ukraine" which has regional representative offices in many regions of Ukraine working with the Embassy of the Netherlands and the Swedish International Development Cooperation Agency.
---

Mr. Maxim Kasianchuk – founder and head of the first officially registered LGBT NGO in Donetsk "Donbass Soc-Project", as well as a consultant and expert on LGBT issues. Maxim is also a Doctor Professor of Chemistry PhD. He was involved in EuroMaidan in Donetsk, a key flashpoint of the current tension in Ukraine. To be a EuroMaidan activist in Donetsk is courageous. To be gay at the same time is outrageous!
---
The PROUD FM Slava Speakeasy Studio
Slava Ultra Premium Vodka was the official sponsor for Proud FM, media partner for the 2014 World Pride Parade in Toronto. Slava Ultra Premium Vodka is the official sponsor for Proud FM, media partner for the 2014 World Pride Parade in Toronto. You may have wondered about the Slava Speakeasy signs at proud FM studio. It was the site of the Speakeasy studio where people had a chance to try Slava Vodka for themselves.

Follow their visit on Pinterest, Twitter and Instagram
---
SPECIAL THANKS TO SPONSORS


The Sheraton Centre Toronto hotel generously hosted the visitors for the duration of WorldPride at their hotel. We salute them!Osteria dei Ganzi restaurant generously donated their beautiful establishment for a fundraiser. Thank-you!
The Gay Propaganda Law
https://www.youtube.com/watch?v=yMpverpXP-I#t=75
http://en.wikipedia.org/wiki/Russian_LGBT_propaganda_law
www.starobserver.com.au/news/international-news-news/crimea-adopts-russian-gay-propaganda-laws/122307
2013 First Pride Parade
https://www.youtube.com/watch?v=g0-zhbW_Reo
https://www.youtube.com/watch?v=iVMactxPFgI
http://www.kyivpost.com/multimedia/photo/despite-interruptions-lgbt-community-holds-kyivs-first-ever-equality-march-324821.html
2012 Cancelled Parade
http://www.dailymail.co.uk/news/article-2147385/Horrific-moment-thugs-attack-head-gay-rights-group-Ukraine-forced-cancel-parade-hijacked-neo-Nazi-zealots.html
https://www.kyivpost.com/content/kyiv/gay-pride-parade-in-kyiv-cancelled-1-127943.html
News Room
UKRAINE TO BE REPRESENTED AT WORLDPRIDE 2014 Prominent LGBT Activists Arrive in Toronto
Subject of Elton John's appeal to stop the violence against gay people.
Thank you to Patrice Nolin for allowing us to use this extraordinary image.